Volvo Style Manifolds
#804 V8 Center Risen Manifold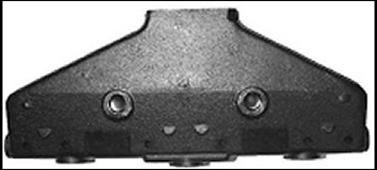 Code: 350V
Price: $190.00
Shipping Weight: 54.00 pounds
GM`S 307 CI / 5.0 and GM`S 350 CI / 5.7
Brand new aftermarket replacement Volvo V8 - 307 and 350 cubic inch. Models Aq 200D, 200F, 225D, 225E, 225F, 255B, 260A, 27aA, 280A, 290A, 311A BB, 225A, 225AV, 225B, 260A, 260B and 260C. Replaces Volvo part #835804-6. Direct replacement center riser manifolds.
* All manifolds come with a one year warranty!
* These new units are aftermarket replacements!
*If you don`t see what you need, please call our toll free number 1-800-767-4921 with any questions!