MerCruiser
#862 Log Style Direct Replacement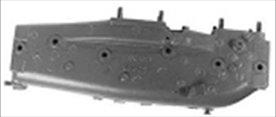 Code: 153M
Price: $266.00
Shipping Weight: 50 pounds
GM`S 153 CI / 2.5 Liter and GM`S 140 CI / 3.0 Liter
Brand new aftermarket replaces MerCruisers 4 Cylinder 153 & 181 Cubic Inch, 120 HP (2.5L), 140 HP (3.0L), Models 120R and 140R - MR/ALPHA One Engines. Direct Replacement Log Style Exhaust Manifold. For manifolds using a Rochester carburetor. Manifold to head is a 6-bolt pattern. (No choke stove) Replaces: MerCruiser part #95862 A5. Gaskets required: MC47-27-48043 (2); MC47-27-96429 (1); MC47-27-60426 (1 as needed).
*All manifolds come with a one year warranty!
*These new units are not made by MerCruiser, but are manufactured for the aftermarket!
*If you don`t see what you need, please call our toll free number 1-800-767-4921 with any questions!